Back to News
4 years of continued success – IMD online & Strategic Feat
Up Next…

Ososim celebrates 10 years of helping organisations bridge the gap between theory and practice
News
After 4 years our Strategic Feat simulation continues to provide rich learning experiences for participants at IMD on their Strategy Execution online programme.
---
Co-designed with Professor Buechel
Professor Bettina Buechel, Professor of Strategy and Organization and programme director at IMD, co-designed the simulation with us back in 2008/9. Since then it has been used in various MBA and Executive Education programmes and was included as a module in one of the first fully online Executive programmes launched at IMD four years ago. As part of this Strategy Execution course it has run with hundreds of participants from a wide range of companies across the globe and is seen as the final capstone of this 8-week learning programme.
In the latest cohort 66 participants ran the simulation either in pairs or as individuals. During the webinar debrief of the virtual simulation session, participants had high praise for the simulation, commenting:
"The simulation really added greatly to the learning experience."
"The simulation game was really interesting!"
"Sharing with my learning partner during the simulation exercise was great."
---
Executing strategy to deliver results
Elisa Alabaster, our COO said: "We have been using the Strategic Feat simulation in this programme very successfully for 4 years now. It provides participants with an engaging and practical experience of implementing a major strategic initiative. Being able to transform business strategy into successful results is vital for any leader. The simulation allows individuals to put their skills into practice and see first-hand the impact of their decisions, providing a deep learning experience."
---
Strategic Feat is an off-the-shelf product, designed to run either face-to-face or online. It can be delivered via the internet or installed locally and facilitated by ourselves, our partners or our clients themselves.
To find out more about the simulation and how it works you can watch our introductory video or contact us on +44 (0)1223 421 034 or email info@ososim.com.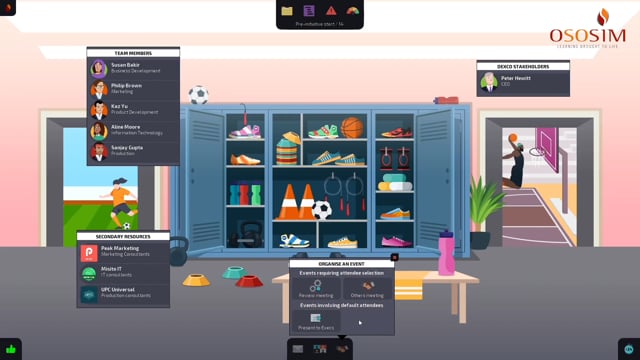 Play Video